METAL FIBER CARTRIDGE

(High Filtration Area Type)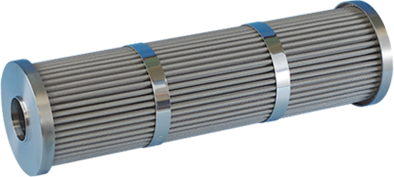 Feature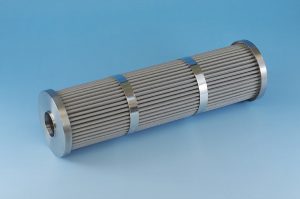 Pleated type cartridge

Metal Fiber ( Sintered metal fiber nonwoven fabric )
●Double filtration area by brazing process
Brazing processing has a pleat folding width higher than that of conventional products, the filtration area is doubled, and it is most suitable for high flow liquid filtration. This will reduce the number of cartridges.
●Filtration efficiency, Filtration resistance
Sintered metal fiber nonwoven fabric has a high filtering porosity of 65 to 80%, so it is a filter with low filtration resistance and high foreign matter collection ability.
●Differential pressure resistance
Because filter media is sintered, there is no sieve opening and filtration accuracy is maintained.
●Pressure resistance
Filter media is a three-layer structure and is suitable for liquid filtration with excellent pressure resistance and high viscosity.
●Chemical resistance
Alkaline and acid type chemicals are available.
●Heat-resistance
Heatproof temperature : (-190℃~)+400℃
●Reuse
It is economical because it can be washed and reused
●Configuration
Compatible common products applicable (OD φ50 ~φ70 mm, Height 250, 500, 750 mm), Can be upgraded to general filtration equipment.
Specification
Filter composition
Media & Support: SUS316L,  End Plate: SUS316, Other: Nickel, SUS316
Filtration accuracy (Nominal)
0.8, 1, 3, 5, 10, 15, 20, 25, 30, 40μ
Filtration area (㎡)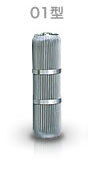 | Nominal Length (in) | 10 |
| --- | --- |
| Filtration area (㎡) | 0.19 |
Pressure resistance
Forward Flow: 0.50 MPa, Reverse Flow: 0.07 Mpa
Structure
Mounting structure

H type(Flat gasket type)
Outline drawing

NJSP
Flow characteristic
Water
※Including housing resistance

〈Conditions〉
(1)10 inch cartridge use
(2)Piping : 1 inch housing use
(3)water temperature : 20℃
Model
Model:NJSP-01-–
Please select and show model number.
Grade


(Nominal)

Gasket Materials