ETCHING LINE STOREINER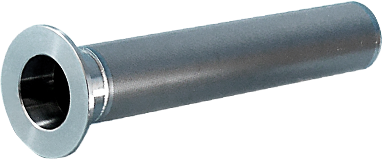 Feature
●Advanced etching technology
Using photo etching technology used in the field of electronic parts manufacturing for emiconductors etc, accurate hole is uniformly opened, so filtration accuracy is maintained.
●Easy to install
Because it can be installed in existing piping, a dedicated housing is not necessary.
●The risk of contamination is drastically reduced
There is no breakage of the steel wire due to breakage as compared to the wire mesh strainer, and there are few residues due to clogging.
●Excellent Regenerative cleaning
Because the structure is simple, it is excellent in regeneration cleaning and sanitary properties. It is economical because it can be washed and reused.
●Chemical resistance
Alkaline and acid type chemicals are available.
Specification
Filter composition
Media: SUS316L, Flange: SUS316L
Filtration accuracy  (Equivalent to mesh)
 20#, 40#, 60#, 80#, 100#, 150#, 200#
Structure
Outline drawing
Model
Model:PET-––
Please select and show model number.
D size
Grade


(Equivalent to mesh)

Gasket Materials