LAMINATE MESH CARTRIDGE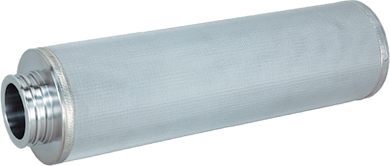 Feature
●5 layer sintered wire mesh
The laminate mesh is composed of five layers of wire gauze, the second layer of the main filtration layer wire gauze is sandwiched between the first layer of protected metal wire mesh and the third layer of dispersed metal wire gauze, and the mesh coarse strength high in the fourth layer and the fifth layer We lay the support layer wire gauze and sinter them into a unitary structure. The porosity is about 35%. Because the wires composing the wire mesh are fused to each other, peeling and opening are difficult to achieve even under high pressure.
●Chemical resistance
Alkaline and acid type chemicals are available.
●Heat-resistance
Heatproof temperature : +300℃
●Reuse
It is economical because it can be washed and reused.
●Configuration
Compatible common products applicable (OD φ50 ~φ70 mm, Height 250, 500, 750 mm), Can be upgraded to general filtration equipment.
Specification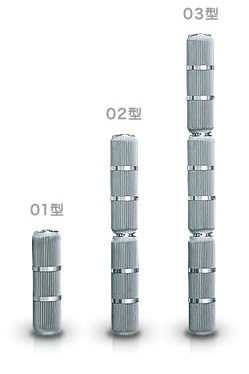 Filter composition
Media: SUS316L, End Plate: SCS14 
Filtration accuracy (Nominal)
2, 5, 10, 20, 40, 75, 100, 150, 200μ
Filtration area (㎡)
| Nominal Length (in) | 10 | 20 | 30 |
| --- | --- | --- | --- |
| Filtration area (㎡) | 0.05 | 0.10 | 0.15 |
Pressure resistance
Forward Flow: 0.4 MPa, Reverse Flow: 1.0 MPa
Structure
Mounting structure

H type(Flat gasket type)

W type(222O‐ring type)

F type(226O‐ring type)
Flow characteristic
Water
※Including housing resistance

〈Conditions〉
(1)10 inch cartridge use
(2)Piping : 1 inch housing use
(3)water temperature : 20℃
Model
Model:SLC–––
Please select and show model number.
Endcap Configuration
Length


(Excluding gaskets)

Grade


(Nominal)

Gasket Materials